 ---
MicroAge WordPress Website
At MicroAge, we value expertise and relationships. It's our marketplace differentiator. So when we encounter another organization that demonstrates these same qualities, we take notice.
Background & Problem
---
A pioneer in need of an update.
For the past 5 decades, MicroAge has been a pioneer in IT. In 1976, they opened one of the first computer stores, and these days their IT professionals collaborate with supplier partners to solve business problems with a blend of hardware and software solutions.
While their tech-savvy account executives could expertly support clients with the most up-to-date IT solutions, MicroAge's marketing website had fallen behind the times. It was out-of-date, difficult to use, and difficult to update by their marketing team. Changes were delayed and costly because they often required developers or other experts. While MicroAge helped pioneer IT, they didn't want their marketing website to look like a relic of years past.
At first, they thought they could salvage the old website, and asked us to make minor tweaks. It was difficult work due to an unfriendly build, but our efforts helped convince them we were the right team to design a brand-new website. They could trust their huge brand to our own tech-savvy experts.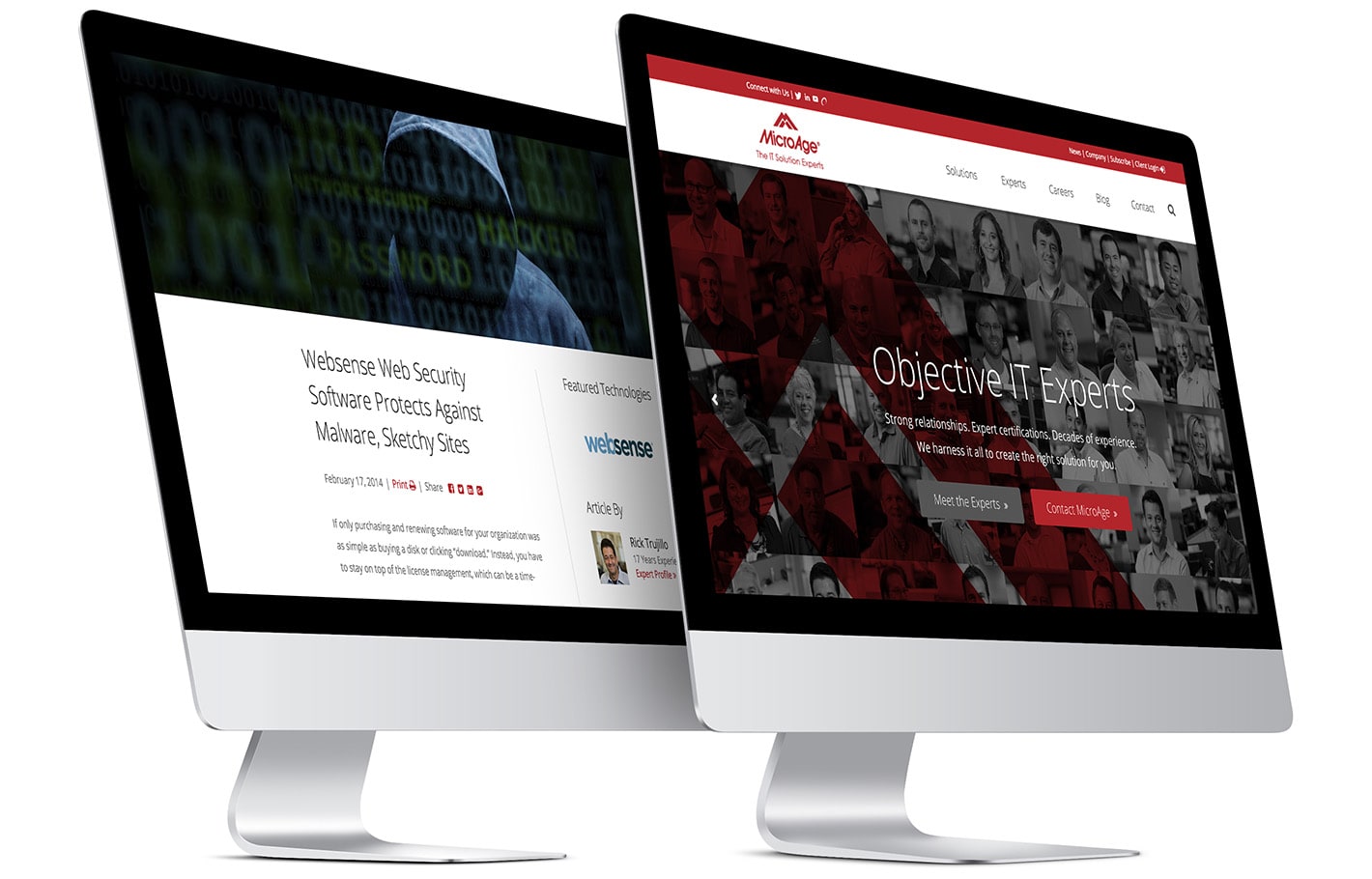 Solution (and What Makes It Cool)
---
Experts take the wheel.
We respect MicroAge's role in the development of IT, so we wanted the design to express their expertise and savvy. One way to do that was through a custom-built blog called Meet the Experts, which spotlights each consultant and custom solutions they have implemented for their clients. A small tool like this enables potential and current clients to make a human connection with their consultant, and witness specifics of their expertise.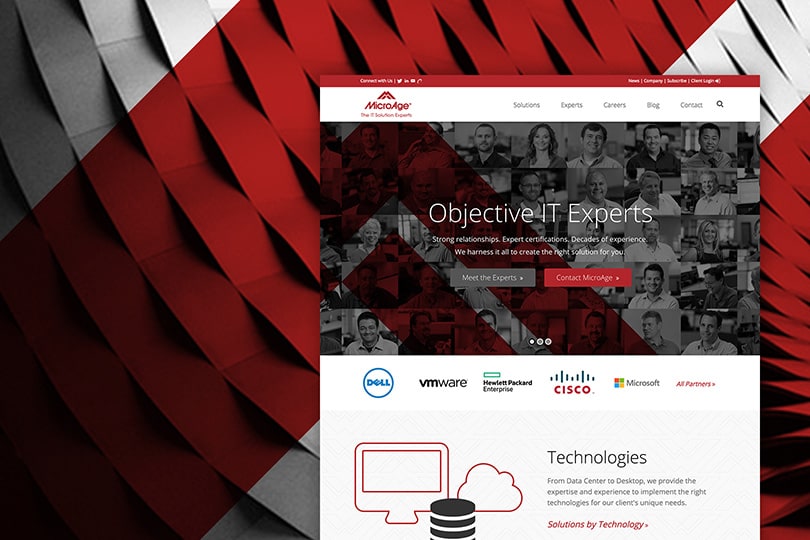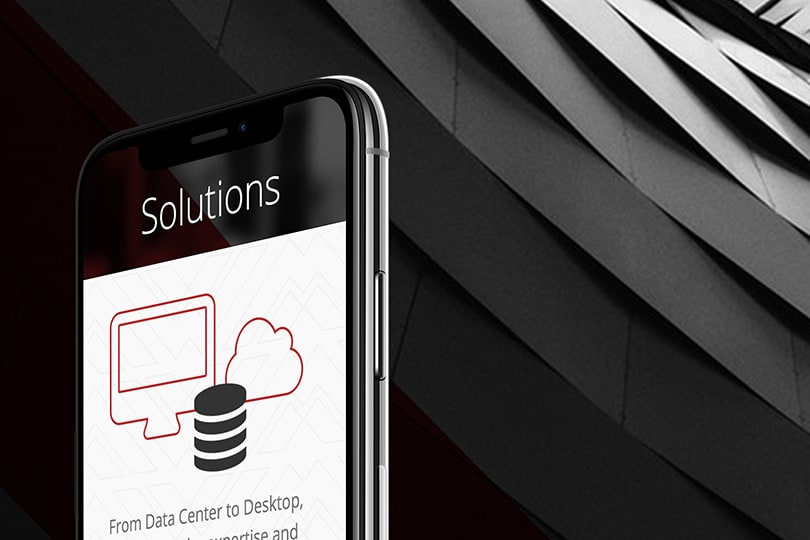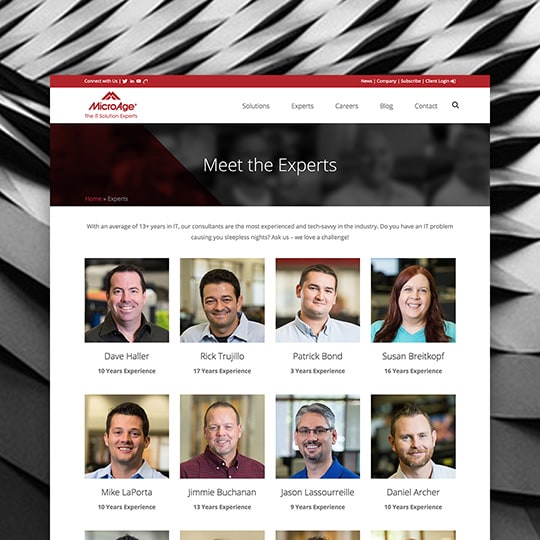 To address the technical limitations of their previous website, we designed a Content Management System (CMS) to empower the MicroAge marketing team — and their experts who post solutions blogs — to manage their content entirely. They no longer need to wait and pay a developer to adjust copy or add a new expert employee. Pioneers get to steer the ship themselves.
"The backend is simple and intuitive and allows us to be self-sufficient. We love all the drag and drop functionality because we no longer need a developer to make simple updates."
Technical Specs (If You're Into that Sort of Thing)
---
Fully custom website built on WordPress and the BeaverBuilder framework providing true what-you-see-is-what-you-get (WYSIWYG) editing via a real-time visual page editor
Custom UX/UI design and mobile responsiveness
Deployment and hosting:

Uptime monitoring (99.9% uptime SLA)
Automated security updates
Application level firewall for protection and mitigation from brute force and DDOS attacks
Automated page caching and file compression for ultra-fast load times
Daily backups of files and databases
The Results
---
Gorgeous efficiency empowering businesses to help businesses.
Throughout the process, we immediately responded to questions and requests. "We never waited endlessly for a call back," says Andrea Hill, Creative Director at MicroAge. "[User10] always delivered on [their] promises." Really, we had a blast working with MicroAge. Andrea Hill and Amanda Woody, the Director of Partner Relations & Marketing were both enthusiastic, creative, and engaged clients to partner with, and their core values — such as "Have fun!" — align nicely with our own.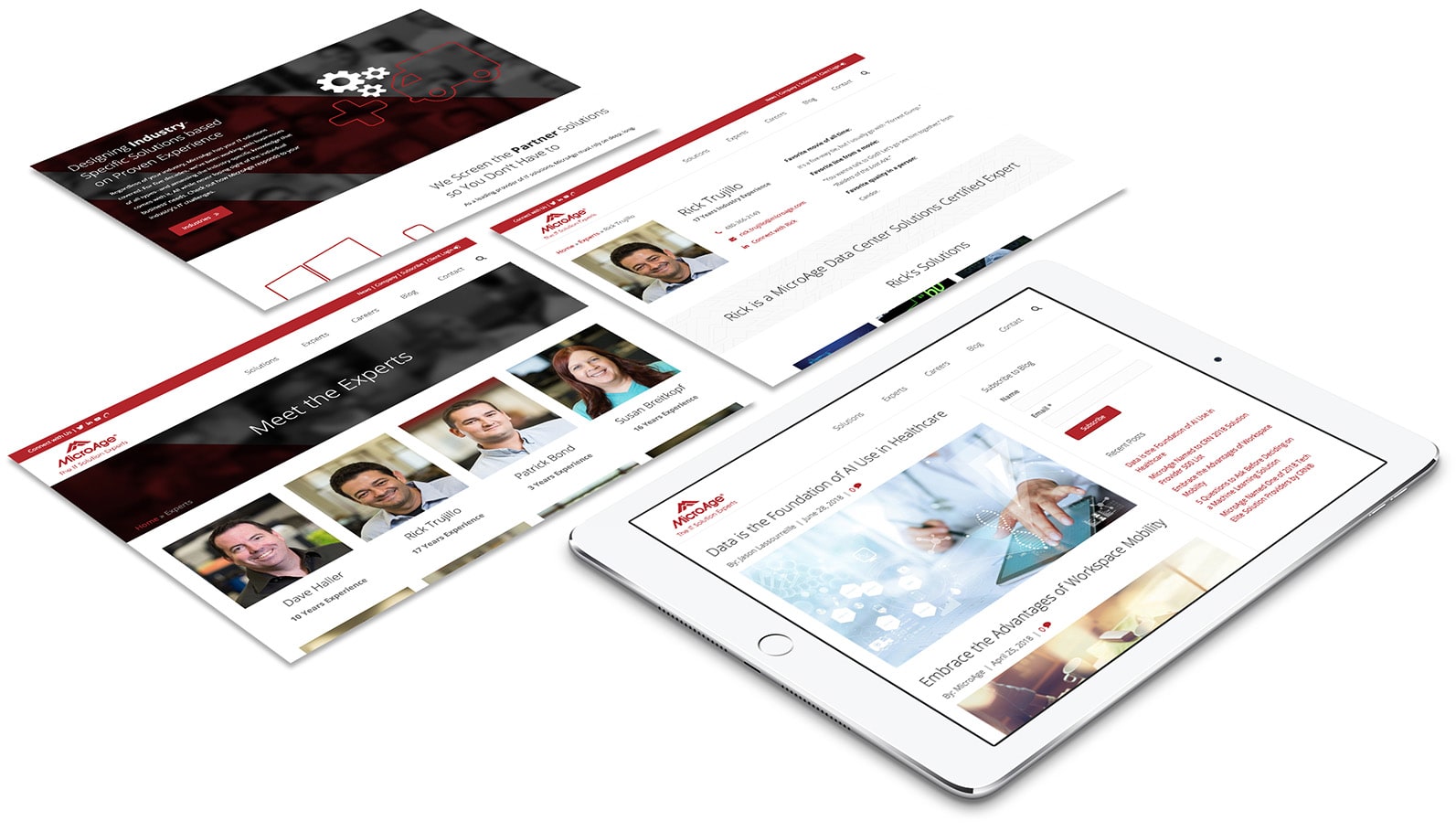 In the end, the partnership produced a website that exceeded their expectations. "Not only does the site look gorgeous, but it organizes our rather complex content in an efficient, user-friendly way. [User10's] expertise in UX trends provided great direction to us as we progressed through the development and design phases," says Andrea.
Thank you for making a daunting process easy, painless and — dare we say, fun!
Both User10 and MicroAge are dedicated to helping other businesses through tech solutions. Not only are we assisting with MicroAge sales, we're empowering MicroAge through features like Meet the Experts to better serve their customers and provide more efficient IT solutions in the end. That's the kind of leadership expected of a pioneer.